Progressive Die Mechanical Press PMX
Two & Four Point, From 300 - 2,000 Tons
Press Information
Press Information & Overview
Features that Maximize Die Life and Improve Part Quality
Progressive Link Motion Drive

Ball Type Suspension Points

Forged Eccentric Shafts

Dynamic Balancing of Slide and Upper Die

Wide Connection Spacing

AIDA's Exclusive Hydraulic Overload Protection

Very Low Deflection Tie Rod Frame
The AIDA PMX Series straightside press in capacities ranging from 300 to 1,000 tons capacity is manufactured in our modern 180,000 sq. ft. facility in Dayton, Ohio. The link motion, center drive limits torsional wind up of the massive eccentric shafts and provides more time in the forming zone to maximize material flow and improve part quality.

Adding the link motion to the extremely accurate, low deflection, press structure along with the wide spaced connections and long slide guides provides an unsurpassed environment for precision progressive dies. The PMX will reduce die maintenance and improve the quality of the parts being produced.
Request More Information
Press Features
AIDA PMX Progressive Die Press Structure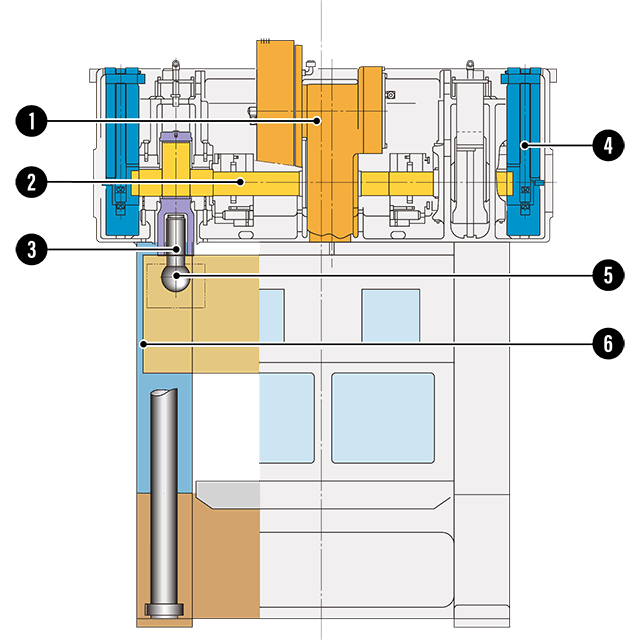 Request More Information
8-Point Oil Film Slide Guide System
Easy Adjustment to Maintain Superior Parallelism
Extra-long gib surfaces on the slide, always maintained within the guides provide superior off-center guiding vs. industry standard

More about 8-Point Oil Film Slide Guide System
Dynamic Balancing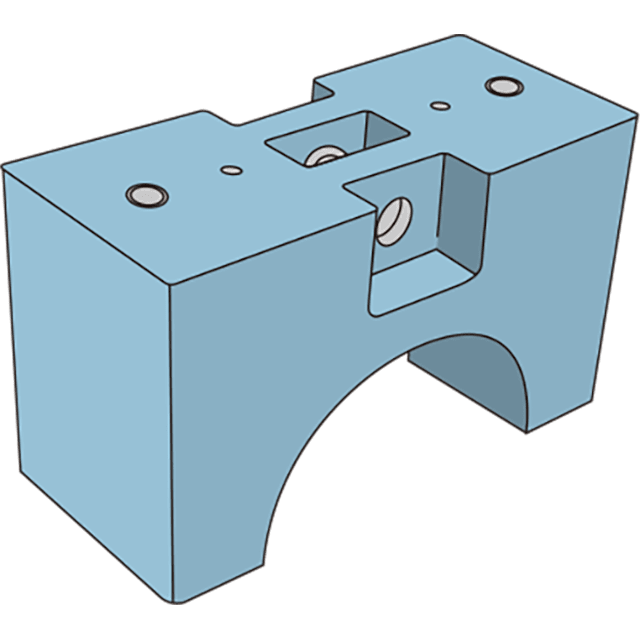 Stabilizes Press Structure by Balancing Inertia Forces in High Speed Operations
Inertia forces generated by the slide and upper die can cause the press to become unstable. Balancing of these forces is accomplished by installing a large weight (or weights) that reciprocate exactly opposite the slide and upper die.

More about Dynamic Balancing
Dwell Link Motion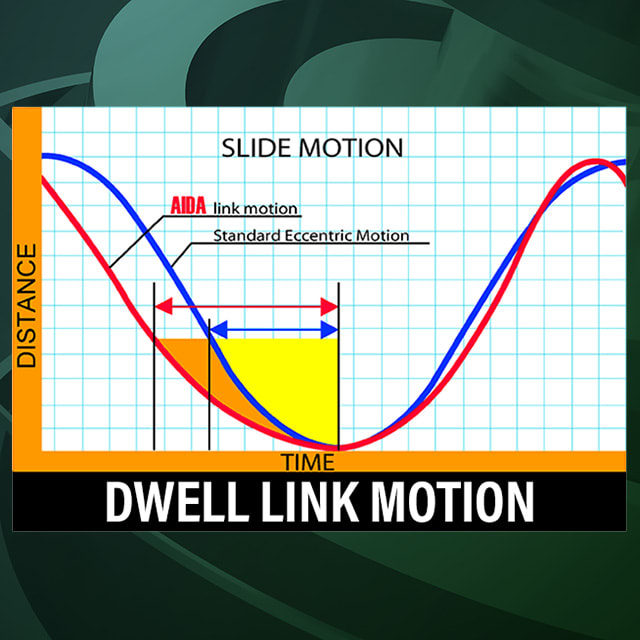 Ideal for Blanking and Progressive Die Applications
Unique slide motion providing slowdown through the working portion of the stroke. Proprietary dwell link motion has fewer bearing points than standard link motion designs, resulting in lower maintenance and better accuracy.

More about Dwell Link Motion
Eccentric Shaft Drive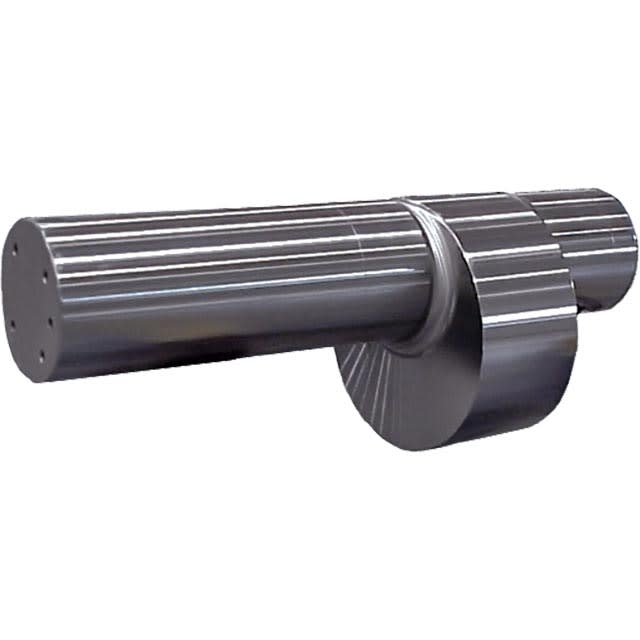 Ideal for Short Stroke Precision Stamping Operations
Eccentric shafts are used primarily in high speed and progressive die stamping operations. Allows for placement of bearing supports against both sides of the eccentrics.

More about Eccentric Shaft Drive
HOLP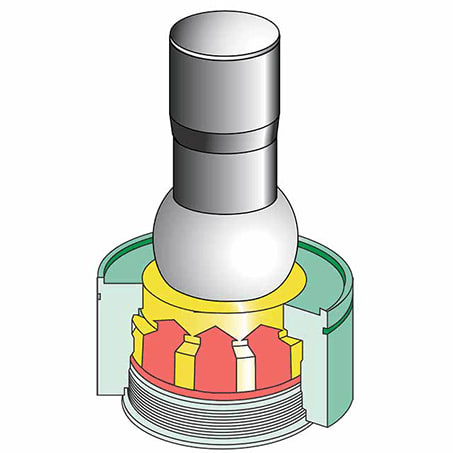 Hydraulic Overload Protection System
AIDA's press technology - the industry's fastest protection system. When overload occurs, oil evacuates 360 degrees around the ball seat with minimum oil flow resistance as compared to conventional systems

More about HOLP System
Wide Connections Spacing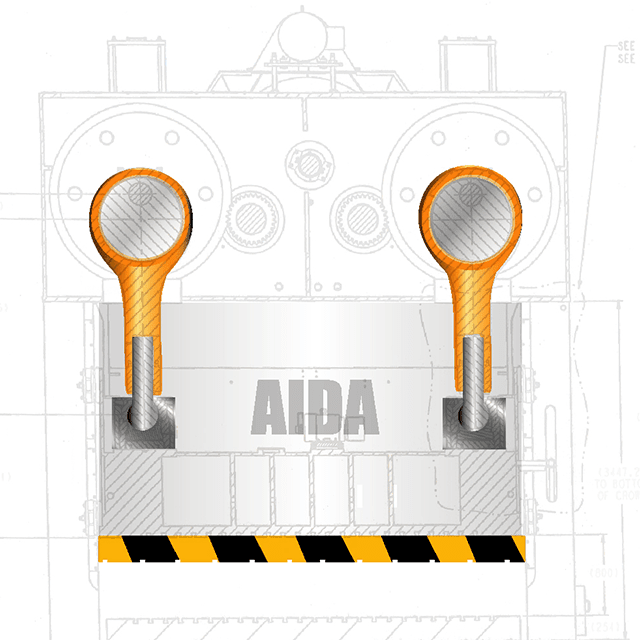 Increased Off-Center Load Bearing Capacity
Reducing the negative effects of off-center loading and providing greater freedom in die design & layout.

More about Wide Connections Spacing
Press Specifications
PMX Progressive Die Mechanical Press Specifications
PMX-2000, 200 Ton Progressive Die Mechanical Press Specifications
PMX-2000 MODELS
Press Technical Data
Unit
PMX-2000
Capacity
kN
2000
2000
U.S. Ton
220
220
Stroke Length
mm
200
200
in.
7.87
7.87
Strokes per minute (No Load)
spm
50~120
50~120
Die Height
mm
475
475
in.
18.70
18.70
Slide Area (LR x FB)
mm
1550x830
1850x880
in.
61.02x32.68
72.83x34.65
Bolster Area (LR x FB)
mm
1550x950
1850x950
in.
61.02x37.4
72.83x37.4
Max upper die weight
kg
1000
1000
lbs.
2205
2205
Side opening
mm
850x375
850x375
in.
33.46x14.76
33.46x14.76
200 Ton Press Specifications
Back to Specifications List
PMX-3000, 300 Ton Progressive Die Mechanical Press Specifications
PMX-3000 MODELS
Press Technical Data
Unit
PMX-3000
Capacity
kN
3000
3000
3000
U.S. Ton
340
340
340
Stroke Length
mm
200
200
200
in.
7.87
7.87
7.87
Strokes per minute (No Load)
spm
40~100
40~100
40~100
Die Height
mm
550
550
550
in.
21.65
21.65
21.65
Slide Area (LR x FB)
mm
1850x880
2150x1000
2450x1200
in.
72.83x34.65
84.65x39.37
96.46x47.24
Bolster Area (LR x FB)
mm
1850x1000
2150x1000
2450x1200
in.
72.83x39.37
84.65x39.37
96.46x47.24
Max upper die weight
kg
1000
1500
1500
lbs.
2205
3307
3307
Side opening
mm
900x450
1020x450
1220x450
in.
35.43x17.72
40.16x17.72
48.03x17.72
300 Ton Press Specifications
Back to Specifications List
PMX-4000, 400 Ton Progressive Die Mechanical Press Specifications
PMX-4000 MODELS
Press Technical Data
Unit
PMX-4000
Capacity
kN
4000
4000
U.S. Ton
450
450
Stroke Length
mm
200
300
in.
7.87
11.81
Strokes per minute (No Load)
spm
30~80
30~60
Die Height
mm
650
700
in.
25.59
27.56
Slide Area (LR x FB)
mm
2150x1150
2450x1150
in.
84.65x45.28
96.46x45.28
Bolster Area (LR x FB)
mm
2150x1250
2450x1250
in.
84.65x49.21
96.46x49.21
Max upper die weight
kg
3000
3000
lbs.
6614
6614
Side opening
mm
1170x550
1170x550
in.
46.06x21.65
46.06x21.65
400 Ton Press Specifications
Back to Specifications List
PMX-5000, 500 Ton Progressive Die Mechanical Press Specifications
PMX-5000 MODELS
Press Technical Data
Unit
PMX-5000
Capacity
kN
5000
5000
U.S. Ton
560
560
Stroke Length
mm
250
250
in.
9.84
9.84
Strokes per minute (No Load)
spm
30~70
30~70
Die Height
mm
700
700
in.
27.56
27.56
Slide Area (LR x FB)
mm
2150x1150
2450x1150
in.
84.65x45.28
96.46x45.28
Bolster Area (LR x FB)
mm
2150x1250
2450x1250
in.
84.65x49.21
96.46x49.21
Max upper die weight
kg
3000
3000
lbs.
6614
6614
Side opening
mm
1170x600
1170x600
in.
46.06x23.62
46.06x23.62
500 Ton Press Specifications
Back to Specifications List
PMX-6000, 600 Ton Progressive Die Mechanical Press Specifications
PMX-6000 MODELS
Press Technical Data
Unit
PMX-6000
Capacity
kN
6000
U.S. Ton
670
Stroke Length
mm
250
in.
9.84
Strokes per minute (No Load)
spm
30~70
Die Height
mm
750
in.
29.53
Slide Area (LR x FB)
mm
2450x1250
in.
96.46x49.21
Bolster Area (LR x FB)
mm
2450x1400
in.
96.46x55.12
Max upper die weight
kg
3000
lbs.
6614
Side opening
mm
1270x650
in.
50x25.59
600 Ton Press Specifications
Back to Specifications List
PMX, 200 - 300 Ton Progressive Die Mechanical Press Specifications
PMX MODELS
Press Technical Data
Unit
PMX-2000
PMX-3000
Capacity
kN
2000
2000
3000
3000
3000
U.S. Ton
220
220
340
340
340
Stroke Length
mm
200
200
200
200
200
in.
7.87
7.87
7.87
7.87
7.87
Strokes per minute (No Load)
spm
50~120
50~120
40~100
40~100
40~100
Die Height
mm
475
475
550
550
550
in.
18.70
18.70
21.65
21.65
21.65
Slide Area (LR x FB)
mm
1550x830
1850x880
1850x880
2150x1000
2450x1200
in.
61.02x32.68
72.83x34.65
72.83x34.65
84.65x39.37
96.46x47.24
Bolster Area (LR x FB)
mm
1550x950
1850x950
1850x1000
2150x1000
2450x1200
in.
61.02x37.4
72.83x37.4
72.83x39.37
84.65x39.37
96.46x47.24
Max upper die weight
kg
1000
1000
1000
1500
1500
lbs.
2205
2205
2205
3307
3307
Side opening
mm
850x375
850x375
900x450
1020x450
1220x450
in.
33.46x14.76
33.46x14.76
35.43x17.72
40.16x17.72
48.03x17.72
200 - 300 Ton Press Specifications
Back to Specifications List
PMX, 400 - 600 Ton Progressive Die Mechanical Press Specifications
PMX MODELS
Press Technical Data
Unit
PMX-4000
PMX-5000
PMX-6000
Capacity
kN
4000
4000
5000
5000
6000
U.S. Ton
450
450
560
560
670
Stroke Length
mm
200
300
250
250
250
in.
7.87
11.81
9.84
9.84
9.84
Strokes per minute (No Load)
spm
30~80
30~60
30~70
30~70
30~70
Die Height
mm
650
700
700
700
750
in.
25.59
27.56
27.56
27.56
29.53
Slide Area (LR x FB)
mm
2150x1150
2450x1150
2150x1150
2450x1150
2450x1250
in.
84.65x45.28
96.46x45.28
84.65x45.28
96.46x45.28
96.46x49.21
Bolster Area (LR x FB)
mm
2150x1250
2450x1250
2150x1250
2450x1250
2450x1400
in.
84.65x49.21
96.46x49.21
84.65x49.21
96.46x49.21
96.46x55.12
Max upper die weight
kg
3000
3000
3000
3000
3000
lbs.
6614
6614
6614
6614
6614
Side opening
mm
1170x550
1170x550
1170x600
1170x600
1270x650
in.
46.06x21.65
46.06x21.65
46.06x23.62
46.06x23.62
50x25.59
400 - 600 Ton Press Specifications
Back to Specifications List
Technical Resources
User Testimonials
Contact AIDA