News & Events
Events
AIDA-America Demonstrating Industry Leading Stamping Press Technology at FABTECH® Mexico 2022, Including AIDA's DSF-C1-A Series Gap Frame Servo Press with its Exclusive Allen-Bradley Control, Booth 504
AIDA-America, Dayton, OH, USA, will demonstrate industry leading press technology in booth 504 at FABTECH® Mexico 2022.

Two AIDA presses along with AIDA's exclusive Allen-Bradley based control for larger servo presses, will be demonstrated at this year's FABTECH® Mexico event, taking place from May 3rd through 5th at Cintermex in Monterrey, MX.

The first, an AIDA single point, mechanical gap frame press is part of AIDA's high quality, industry leading gap frame press line, with models ranging from 35 to 250 tons. The fastest acting hydraulic overload protection (HOLP) in the industry at 10 ms, a highly rigid frame with low angular deflection, and the tightest clearances available in a gap frame press, which minimize reverse tonnage, are just a few standard features of these NC1 Series presses.


The second is AIDA's A Series single point, direct-drive gap frame servo press, showcasing AIDA's exclusive Allen-Bradley control. Standard DSF-C1-A Allen-Bradley control features include a swing-arm mounted 12 in. color touch screen HMI, an Allen-Bradley servo motion controller on ControlLogix® platform, 150 job recipe storage, an integrated tonnage monitor (peak only), a step-feed (CNC handwheel) slide motion control for ease of die set-up, 8 PLS cams, 8 channel die protection with PNP/NPN signals, display of actual and virtual crank angles, and ergonomically designed optical run buttons to provide the highest level of safety while helping to reduce operator fatigue. Additional AIDA DSF-C1-A series highlights are a next generation servo motor with 5-10% higher speeds than AIDA's previous generation gap frame servo presses, a capacitor-based Energy Conservation and Optimization (ECO) system that reduces peak energy draw, and a state-of-the-art Electronic Over Load Protection (EOLP) system that monitors applied torque through the complete stroke to prevent overloading. This press will be blanking parts with AIDA's optimized servo silent blanking stroke motion profile, which can only be achieved on a servo press. AIDA's new DSF-C1-A Series product line is offered in a range of tonnages from 80 to 250 tons.

Additionally, AIDA will be exhibiting its exclusive Allen-Bradley based servo press control, the latest in servo press control technology, for servo presses from 315 - 3,500 tons. This fully operational and interactive 19 in. PC touch screen Allen-Bradley control will demonstrate several servo press stroke motion profiles in real-time on a virtual press. Control features include direct access to a pdf of the press manual and display of actual and virtual crank angles.

Knowledgeable AIDA associates, including local, Mexico-based personnel, will be available to demonstrate both presses and the Allen-Bradley servo press control, share their features and benefits, explain the advantages AIDA's top quality presses can bring to any pressroom, and discuss AIDA's full metalforming equipment line-up. Register to Attend FABTECH® Mexico
AIDA-America Not Exhibiting at FABTECH® 2021 in Chicago, Remains Committed to Large Displays at FABTECH® Atlanta 2022, Chicago 2023
AIDA-America, with a focus on the safety and well-being of our associates, partners, and customers, has made the decision not to exhibit at FABTECH® 2021 in Chicago, IL. The current rise in COVID-19 cases and the presence of the Delta variant leads the company to make this difficult choice. AIDA has been a strong supporter of FABTECH® and, specifically, the Precision Metalforming Association (PMA) for many years. That support remains even now in the face of these challenges.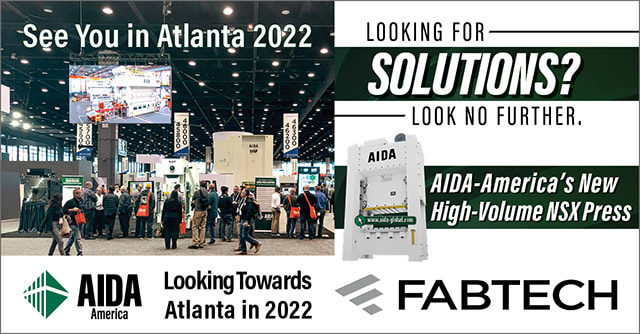 Read the full news release by clicking below to learn more about our upcoming events and new product launches, which includes the newly designed high-volume NSX mechanical press with speeds up to 300 spm.
AIDA-America Not Exhibiting at FABTECH® Chicago 2021
AIDA-America Demonstrating Virtual Trade Show Booth at eFAB XPO, Including Factory Tour and Gap and Unitized Frame Direct Drive Servo Presses
Please sign up for our eFAB XPO virtual trade show demonstration Tuesday, November 17th at 3:00 PM EST for an AIDA-America factory tour and to learn more about our gap and unitized frame direct drive servo presses. A big thank you to our distributor, Mid Atlantic Machinery, Inc., for organizing and hosting this event!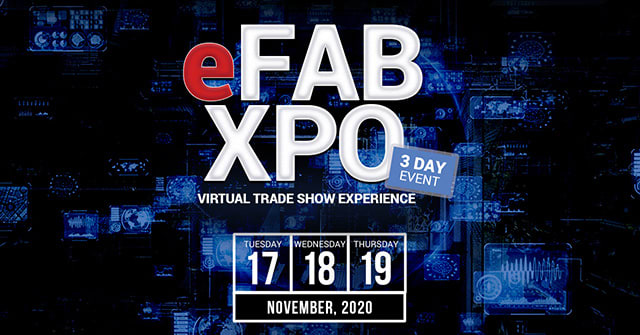 Register for AIDA-America's eFAB XPO Demo 11/17/20, 3:00 PM