News & Events
News
AIDA-America Hosted Manufacturing Day® Event
AIDA-America, metal stamping press manufacturer, hosted a Manufacturing Day® event at its Dayton, OH, USA facility on October 9th. AIDA-America associates had the opportunity to connect with 20 students from Centerville High School, share the company's capabilities with them, and guide them on a tour of AIDA's industry-leading 180,000 sq. ft. manufacturing facility, as AIDA did its part to inspire the next generation of manufacturers. This nationwide event celebrates modern manufacturing, while also providing manufacturers with a forum to begin addressing skilled labor shortages and to ensure the ongoing prosperity of the manufacturing industry.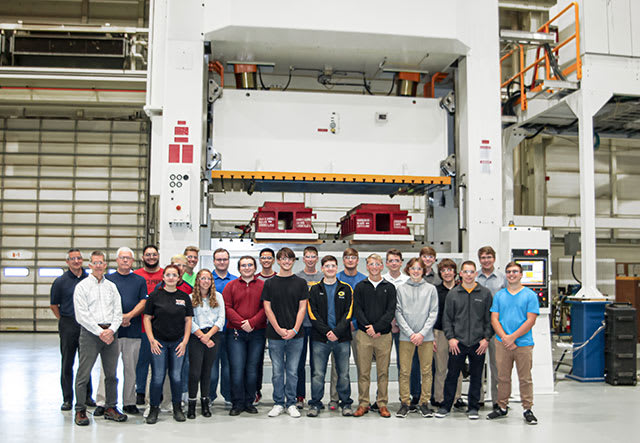 AIDA-America Hosted Servo Symposium
AIDA-America, metal stamping press manufacturer, recently held the 2019 Servo Symposium at its Dayton, OH facility on September 11th and 12th. Attendees of this invitation-only event participated in educational seminars, toured AIDA-America's industry-leading press manufacturing facility, and experienced hands-on servo technology demonstrations, including three AIDA DSF Series servo presses. For the second year in a row, attendance was almost at capacity, with AIDA-America hosting a total of 125 guests from 55 companies throughout North America.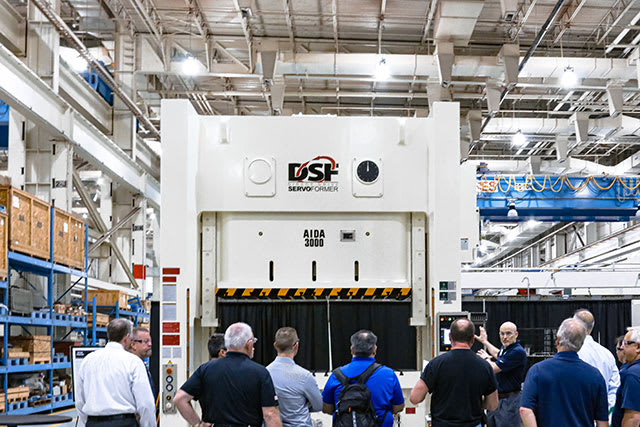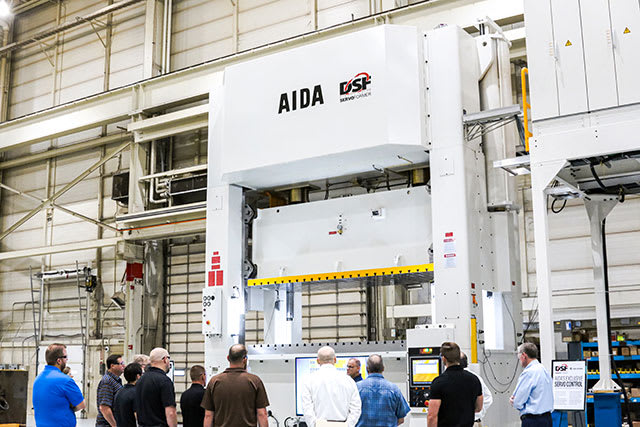 AIDA Receives CWIEME Award
We are delighted to communicate that our AiCARE - AIDA Information Care System - was awarded at CWIEME Awards 2019 in the category: Evolution 4.0. We thank the judges and the organization of CWIEME for the recognition.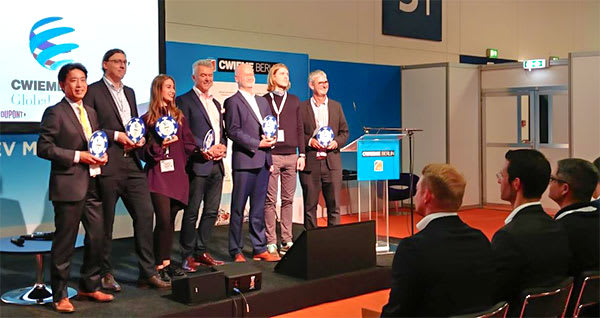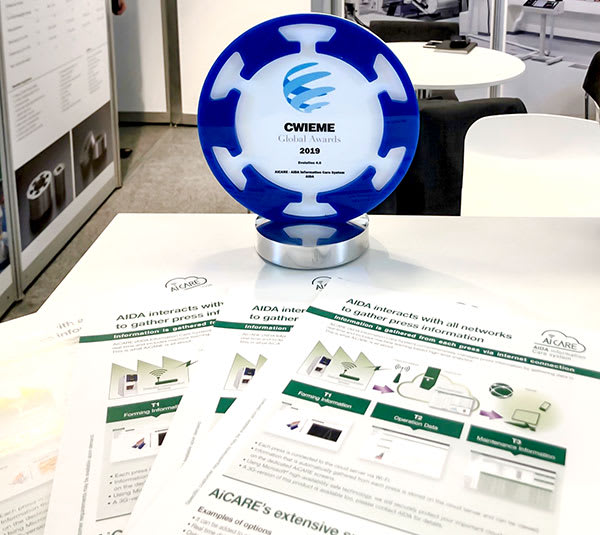 To learn more about this award, please visit:CWIEME Website
AIDA 630 Ton Servo Press Installed at Omex Manufacturing ULC Increases Production and Provides Additional Benefits
AIDA-America, metal stamping press manufacturer in Dayton, OH, USA, congratulates Omex Manufacturing ULC on the installation of their first servo press, a 630 Ton model DSF-M2 transfer press. By moving the stamping of an automotive spindle from a mechanical press to their new AIDA DSF Series direct drive servo press, Omex improved their part quality, increased their production speed by over 20 percent, reduced their scrap rate by 1.5 percent, and increased their tool life by 15 percent. To achieve these improvements, Omex partnered with AIDA-America through servo application training and created the optimized motion profile now utilized to form this automotive spindle.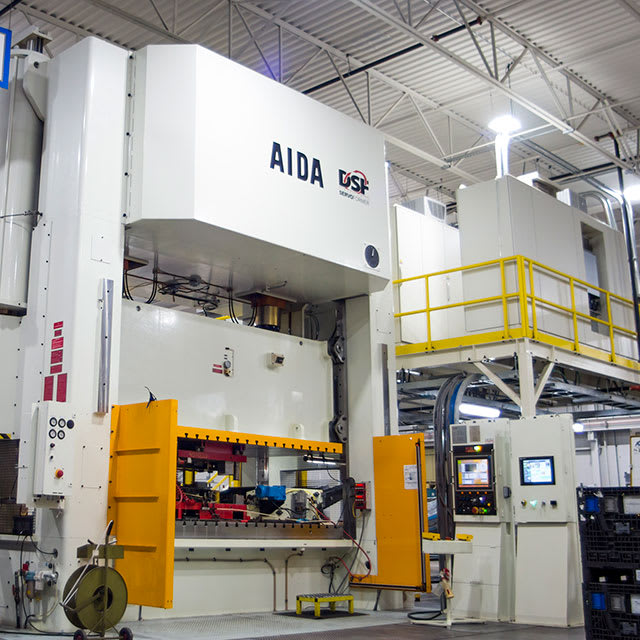 Events
AIDA-America Introducing New DSF-C1-A Series Gap Frame Servo Press with its Exclusive Allen-Bradley Control, Plus Demonstrating Silent Blanking Motion Profile, Near-Fine Blanking, Increased Productivity, and Improved Part Quality at FABTECH® Chicago 2019, AIDA-America Booth D46027
AIDA-America, metal stamping press manufacturer, Dayton, OH, USA, will demonstrate new and advanced industry-leading servo press technology with multiple presses and control systems in booth D46027 at FABTECH® Chicago 2019.

Two AIDA DSF Series direct-drive servo presses will be on display, powered-up and making parts at this year's FABTECH® show, taking place from November 11th through 14th at McCormick Place, Chicago, IL.

AIDA-America will introduce and demonstrate its new DSF-C1-800A, an 80-ton, direct-drive gap frame servo press, part of the company's new DSF-C1-A series, showcasing AIDA's exclusive Allen-Bradley control. Standard DSF-C1-A Allen-Bradley control features include a swing-arm mounted 12 in. color touch screen HMI, an Allen-Bradley servo motion controller on CompactLogixTM platform, 200 job recipe storage, job recipe download/upload capability to a flash drive, an integrated tonnage monitor (peak only), a step-feed (CNC handwheel) slide motion control for improved set-up, 8 PLS cams, 8 input die protection with PNP/NPN signals, display of actual and virtual crank angles, and ergonomically designed optical run buttons to provide the highest level of safety while helping to reduce operator fatigue. Additional AIDA DSF-C1-A series highlights are higher pendulum speeds than AIDA's previous generation gap frame servo presses, a capacitor-based Energy Conservation and Optimization (ECO) system that reduces peak energy draw, and a state-of-the-art Electronic Over Load Protection (EOLP) system that monitors applied torque through the complete stroke to prevent overloading. This press will be blanking parts with AIDA's optimized servo silent blanking stroke motion profile, which can only be achieved on a servo press.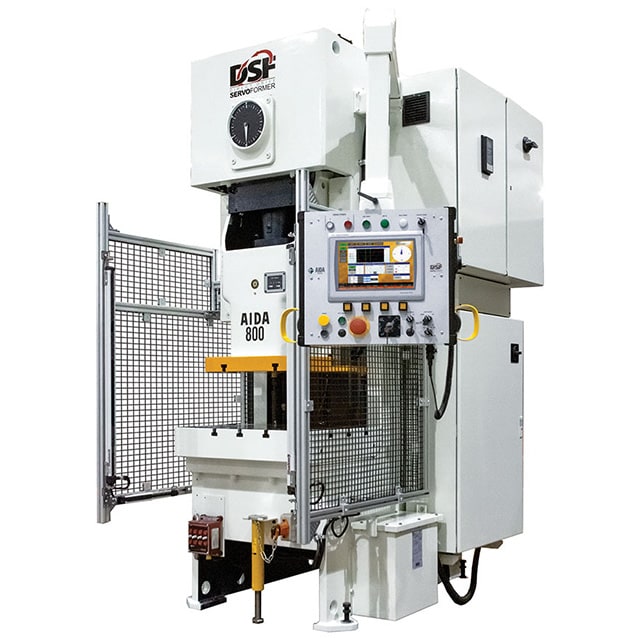 The second AIDA DSF Series press on display, a DSF-N2-3000, 300-ton, two-point straightside servo press, will be part of a full progressive die production line blanking near-fine parts. AIDA's industry-leading servo technology will demonstrate how servo near-fine blanking can produce a 90%+ burnished surface with a straight edge, exceeding the typical 70%-80% burnished edge requirement of many applications. The combination of AIDA DSF Series servo press accuracy and programmability is utilized to transition near-fine parts from a high-cost, labor intensive machine process to a much more efficient, economical stamping process, presenting the opportunity to dramatically reduce the per piece cost. AIDA DSF Series servo presses also provide more flexibility to the pressroom than traditional fine blanking presses. AIDA-America will be coordinating with Dallas Industries, Heidtman Steel, Pax Products, and Tower Metalworking Fluids for this demonstration.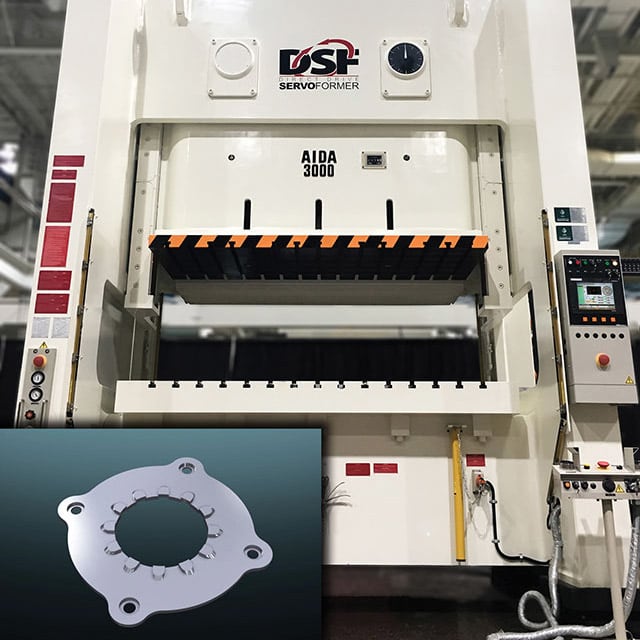 Additionally, AIDA will be exhibiting its exclusive Allen-Bradley based servo press control, the latest in servo press control technology, for servo presses from 315 - 3,500 tons. This fully operational and interactive 19 in. PC touch screen Allen-Bradley control will demonstrate several servo press stroke motion profiles in real-time on a virtual press. Control features include direct access to a pdf of the press manual and display of actual and virtual crank angles.

AIDA-America associates will be available to discuss examples of production optimization driven by AIDA DSF Series servo presses used in the stamping industry, as well. They will share how these infinitely programmable presses can help maximize stampers' productivity and profit in the press room. Please visit booth D46027 to experience first-hand why, with more than 20 years of servo press experience, AIDA continues to be the servo press technology industry leader. Register for free to Attend FABTECH® Chicago 2019
Presses Demonstrate AIDA's Industry Leading Stamping Press Technology at FABTECH® Mexico 2019, AIDA-America Booth 408
AIDA-America, Dayton, OH, USA, will demonstrate industry leading press technology in booth 408 at FABTECH® Mexico 2019.

Two AIDA Presses will be demonstrated at this year's FABTECH® Mexico event, taking place from May 7th through 9th at Cintermex International Convention and Exhibition Center, Monterrey, MX.

The first, an AIDA NC1-800(2)E, 80-ton, mechanical gap frame press is part of AIDA's high quality, industry leading gap frame press line, with models ranging from 35 to 250 tons. The fastest acting hydraulic overload protection (HOLP) in the industry at 10 ms, a highly rigid frame with low angular deflection, and the tightest clearances available in a gap frame press, which minimize reverse tonnage, are just a few standard features of these presses.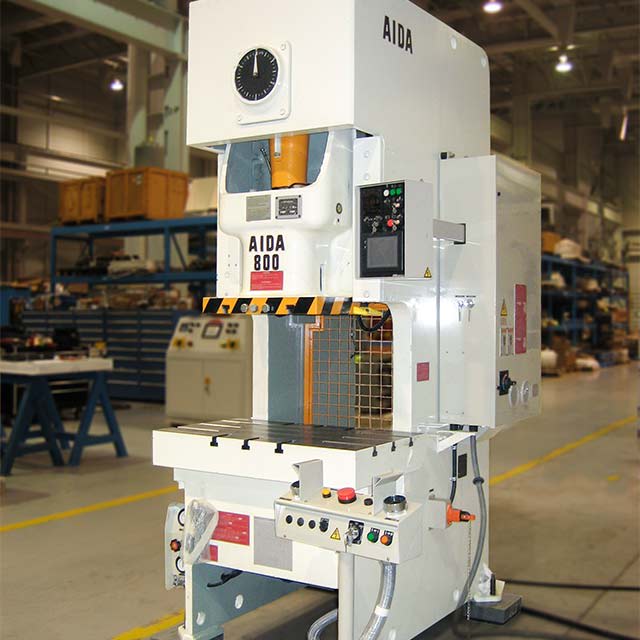 The second is an 80-ton AIDA gap frame servo press, model DSF-C1-800, and part of AIDA's gap frame servo press line, with models ranging from 80 to 250 tons. Utilizing the same mechanical drive train of the tried and true NC1 mechanical gap frame, these DSF-C1 series direct drive servo presses combine the versatility of an open die space area with the flexibility of the freely programmable servo motion. The DSF-C1-800 press will be blanking parts, demonstrating AIDA's Silent Blanking motion profile, which can only be achieved on a servo press. This demonstration will also highlight the versatility of AIDA servo presses.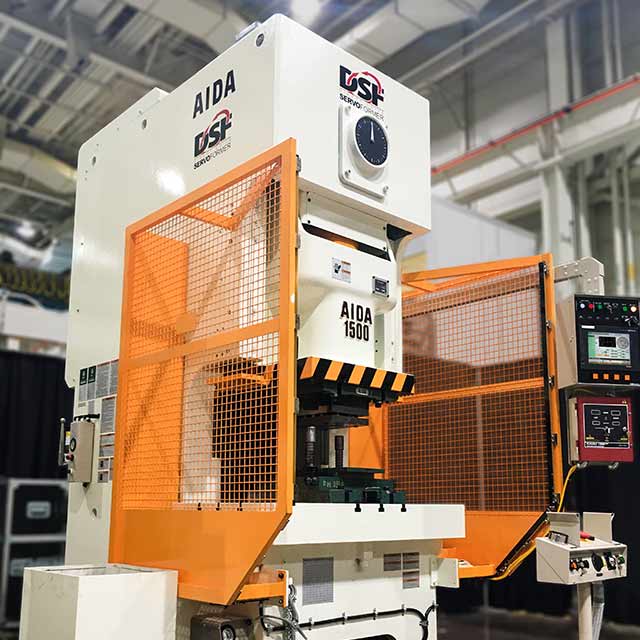 Additionally, AIDA will be exhibiting its exclusive Allen-Bradley based servo press control, the latest in servo press control technology, for servo presses from 315 - 3,500 tons. This fully operational and interactive Allen-Bradley control will demonstrate several servo press stroke motion profiles in real-time on a virtual press.

Knowledgeable AIDA associates will be available to demonstrate both presses and the Allen-Bradley servo press control, share their features and benefits, and explain the advantages AIDA's top quality presses can bring to any pressroom. Register to Attend FABTECH® Mexico