Straightside Mechanical Press NST
Two & Four Point, From 300 - 1,200 Tons
Press Information
Press Information & Overview
High Performance for Multi-Purpose Work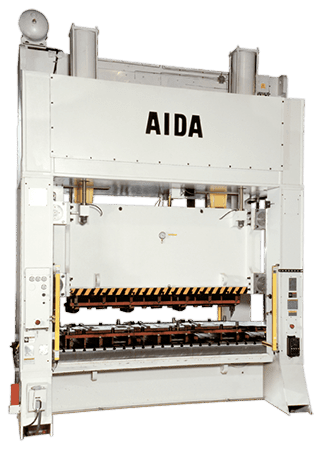 Created to meet your conventional stamping press requirements in the most unconventional ways. High-end features with low-end pricing.

The AIDA NST press is conventional in name and price only. No glitz, just guts, the NST press was created for high performance, multi-purpose work with the same attention to detail, quality and engineering as every other AIDA solution.

This enables the NST to deliver decidedly unconventional performance and reliability through lower maintenance costs, longer die life and expanded capabilities. All that combined with lower initial costs helps you significantly increase the profitability of your business, proving once again that a better press is better business.
Request More Information
Press Features
AIDA NST Progressive Die & Transfer Press Features
Combination Clutch & Brake

High Energy, Quill Mounted Flywheel & Motor Combination

Four Piece Tie Rod Frame

PLC Based Control
Request More Information
Press Specifications
NST Straightside Mechanical Press Specifications
NST-3000, 300 Ton Straightside Mechanical Press Specifications
NST MODELS
Press Technical Data
Unit
NST-3000
Capacity
kN
3000
U.S. Tons
300
Rating Point (single geared)
mm
6.5 & 12.7
in.
.26 & .50
Rating Point (double geared)
mm
12.7, 19.2 & 25
in.
.50, .76 & .98
Slide Stroke, Single Geared (min. & max.)
mm
250 & 350
in.
9.84 & 13.78
Slide Stroke, Double Geared (min. & max.)
mm
350 & 500
in.
13.78 & 19.69
Strokes / Minute (single geared)
spm
30-60 & 25-50
Strokes / Minute (double geared)
spm
15-30
Bolster & Slide R to L (min. & max.)
mm
2150 & 3050
in.
84.65 & 120.08
Bolster & Slide F to B, 2 Point
mm
1200 & 1500
in.
47.24 & 59.06
Side Opening F to B, 2 Point
mm
1200 & 1500
in.
47.74 & 59.06
Die Height
mm
700
in.
27.56
Slide Adjustment
mm
200
in.
7.87
300 Ton Press Specifications
Back to Specifications List
NST-4000, 400 Ton Straightside Mechanical Press Specifications
Press Technical Data
Unit
NST-400
Capacity
kN
4000
U.S. Ton
440
Rating Point (single geared)
mm
6.5 & 12.7
in.
.26 & .50
Rating Point (double geared)
mm
12.7, 19.2 & 25
in.
.50, .76 & .98
Slide Stroke, Single Geared (min. & max.)
mm
250 & 400
in.
9.84 & 15.75
Slide Stroke, Double Geared (min. & max.)
mm
400 & 500
in.
15.75 & 19.69
Strokes / Minute (single geared)
spm
30-60 & 20-50
Strokes / Minute (double geared)
spm
15-30
Bolster & Slide R to L (min. & max.)
mm
2450 & 4250
in.
96.46 & 167.32
Bolster & Slide F to B, 2 Point
mm
1500 & 1800
in.
59.06 & 70.87
Side Opening F to B, 2 Point
mm
1500 & 1800
in.
59.06 & 70.87
Die Height
mm
800
in.
31.5
Slide Adjustment
mm
300
in.
11.81
400 Ton Press Specifications
Back to Specifications List
NST-6000, 600 Ton Straightside Mechanical Press Specifications
Press Technical Data
Unit
NST-600
Capacity
kN
6000
U.S. Ton
660
Rating Point (single geared)
mm
6.5 & 12.7
in.
.26 & .50
Rating Point (double geared)
mm
12.7, 19.2 & 25
in.
.50, .76 & .98
Slide Stroke, Single Geared (min. & max.)
mm
250 & 400
in.
9.84 & 15.75
Slide Stroke, Double Geared (min. & max.)
mm
400 & 500
in.
15.75 & 19.69
Strokes / Minute (single geared)
spm
30-60 & 20-45
Strokes / Minute (double geared)
spm
15-30
Bolster & Slide R to L (min. & max.)
mm
2450 & 4850
in.
96.46 & 190.94
Bolster & Slide F to B, 2 Point
mm
1500 & 1800
in.
59.06 & 70.87
Side Opening F to B, 2 Point
mm
1500 & 1800
in.
59.06 & 70.87
Die Height
mm
900
in.
35.43
Slide Adjustment
mm
300
in.
11.81
600 Ton Press Specifications
Back to Specifications List
NST-8000, 800 Ton Straightside Mechanical Press Specifications
Press Technical Data
Unit
NST-800
Capacity
kN
8000
U.S. Ton
880
Rating Point (single geared)
mm
6.5 & 12.7
in.
.26 & .50
Rating Point (double geared)
mm
12.7, 19.2 & 25
in.
.50, .76 & .98
Slide Stroke, Single Geared (min. & max.)
mm
300 & 500
in.
11.81 & 19.69
Slide Stroke, Double Geared (min. & max.)
mm
400 & 600
in.
15.75 & 23.62
Strokes / Minute (single geared)
spm
25-50 & 20-40
Strokes / Minute (double geared)
spm
15-30
Bolster & Slide R to L (min. & max.)
mm
3050 & 4850
in.
120.08 & 190.94
Bolster & Slide F to B, 2 Point
mm
1500 & 1800
in.
59.06 & 70.87
Side Opening F to B, 2 Point
mm
1500 & 1800
in.
59.06 & 70.87
Die Height
mm
1100
in.
43.31
Slide Adjustment
mm
300
in.
11.81
800 Ton Press Specifications
Back to Specifications List
NST-10000, 1,000 Ton Straightside Mechanical Press Specifications
Press Technical Data
Unit
NST-1000
Capacity
kN
10000
U.S. Ton
1100
Rating Point (single geared)
mm
6.5 & 12.7
in.
.26 & .50
Rating Point (double geared)
mm
12.7, 19.2 & 25
in.
.50, .76 & .98
Slide Stroke, Single Geared (min. & max.)
mm
400 & 500
in.
15.75 & 19.69
Slide Stroke, Double Geared (min. & max.)
mm
400 & 600
in.
15.75 & 23.62
Strokes / Minute (single geared)
spm
20-45 & 20-40
Strokes / Minute (double geared)
spm
15-30
Bolster & Slide R to L (min. & max.)
mm
3650 & 6000
in.
143.70 & 236.22
Bolster & Slide F to B, 2 Point
mm
1500 & 1800
in.
59.06 & 70.87
Side Opening F to B, 2 Point
mm
1500 & 1800
in.
59.06 & 70.87
Die Height
mm
1100
in.
43.31
Slide Adjustment
mm
300
in.
11.81
1,000 Ton Press Specifications
Back to Specifications List
NST, 300 - 1,000 Ton Straightside Mechanical Press Specifications
Press Technical Data
Unit
NST-300
NST-400
NST-600
NST-800
NST-1000
Capacity
kN
3000
4000
6000
8000
10000
U.S. Ton
330
440
660
880
1100
Rating Point (single geared)
mm
6.5 & 12.7
6.5 & 12.7
6.5 & 12.7
6.5 & 12.7
6.5 & 12.7
in.
.26 & .50
.26 & .50
.26 & .50
.26 & .50
.26 & .50
Rating Point (double geared)
mm
12.7, 19.2 & 25
12.7, 19.2 & 25
12.7, 19.2 & 25
12.7, 19.2 & 25
12.7, 19.2 & 25
in.
.50, .76 & .98
.50, .76 & .98
.50, .76 & .98
.50, .76 & .98
.50, .76 & .98
Slide Stroke, Single Geared (min. & max.)
mm
250 & 350
250 & 400
250 & 400
300 & 500
400 & 500
in.
9.84 & 13.78
9.84 & 15.75
9.84 & 15.75
11.81 & 19.69
15.75 & 19.69
Slide Stroke, Double Geared (min. & max.)
mm
350 & 500
400 & 500
400 & 500
400 & 600
400 & 600
in.
13.78 & 19.69
15.75 & 19.69
15.75 & 19.69
15.75 & 23.62
15.75 & 23.62
Strokes / Minute (single geared)
spm
30-60 & 25-50
30-60 & 20-50
30-60 & 20-45
25-50 & 20-40
20-45 & 20-40
Strokes / Minute (double geared)
spm
15-30
15-30
15-30
15-30
15-30
Bolster & Slide R to L (min. & max.)
mm
2150 & 3050
2450 & 4250
2450 & 4850
3050 & 4850
3650 & 6000
in.
84.65 & 120.08
96.46 & 167.32
96.46 & 190.94
120.08 & 190.94
143.70 & 236.22
Bolster & Slide F to B, 2 Point
mm
1200 & 1500
1500 & 1800
1500 & 1800
1500 & 1800
1500 & 1800
in.
47.24 & 59.06
59.06 & 70.87
59.06 & 70.87
59.06 & 70.87
59.06 & 70.87
Side Opening F to B, 2 Point
mm
1200 & 1500
1500 & 1800
1500 & 1800
1500 & 1800
1500 & 1800
in.
47.74 & 59.06
59.06 & 70.87
59.06 & 70.87
59.06 & 70.87
59.06 & 70.87
Die Height
mm
700
800
900
1100
1100
in.
27.56
31.5
35.43
43.31
43.31
Slide Adjustment
mm
200
300
300
300
300
in.
7.87
11.81
11.81
11.81
11.81
300 - 1,000 Ton Press Specifications
Back to Specifications List
Contact AIDA